Implementing Ad Extensions for Real Estate Investors AdWords Campaigns
Most real estate PPC managers know that ad extensions allow additional information to show on Google AdWords as well as Bing Ads.  But very few of them actually use ad extensions to their maximum ability.
Ad extensions can be a very powerful tool for your real estate investor business ads.  Extensions allow for a range of possibilities, including increasing click-through rates, improving conversion rate and dwindling costs. All that and your cost per click doesn't change by applying extensions.
Ad extensions can be shown to a searcher if the quality score is strong enough to place the ad in one of the top three ad spots in the search engine results.  Utilizing extensions can increase your click-through rate by 25% or more.  That makes it even more puzzling why more advertisers don't take advantage of them.
Enabling Ad Extensions for a Google Adwords Campaign
To enable ad extensions for an existing campaign, click the Ad extensions tab.

Then, click on the drop-down menu to select the type of extension you would like to set up.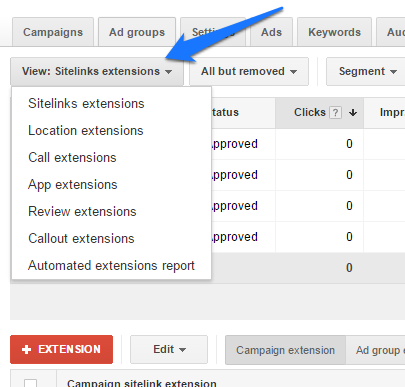 Your options include:
Sitelinks
Location
Call
App
Review
Callout
Automated Extensions Report
I'll cover sitelinks, location, call and callout extensions.  These four extensions are effective starts to make your real estate investor ads stand out.
Adding Sitelinks
Sitelinks are basically additional landing pages to better serve the motivated searcher.  Sitelink titles, such as "Who We Are", "How We Buy Houses" and "Get a Cash Offer Today", add a customer service aspect to your ad.  Each sitelink will direct them to a targeted landing page of your choice.
Under the Sitelinks menu, click +Extension.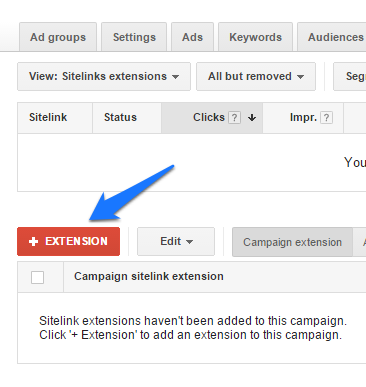 This will bring up the next menu, where you need to click +New Sitelink.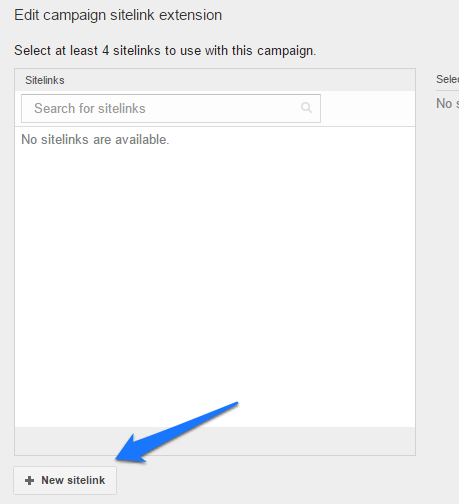 In the next pop-up screen you'll need to add in the following information:
Link text, such as "How We Buy Houses" or "Get a Cash Offer Today".  It helps to choose a closely related title to the landing page you're sending the visitor.
Landing page Final URL or Destination URL.
The HTTP of your sitelink landing page.  Choose pages that will help increase targeted traffic of your goal.  If your goal is more real estate lead generation, choose a landing page with an enticing offer and a good sign up form.
An optional description of the sitelink.
Setup a test schedule.  When to begin and end.
Click Save.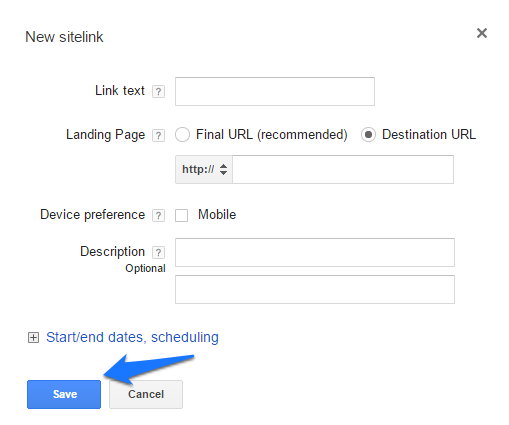 You are allowed to have four active sitelinks.  As long as they are approved by Google.
Adding a Location Extension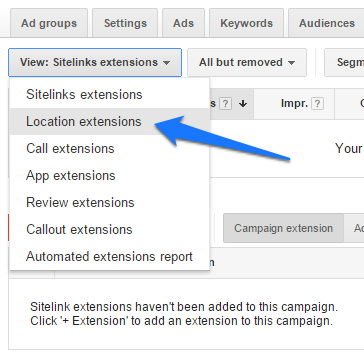 Click the Location extensions link and again click the red +Extension button.  For location extensions to work, you'll be required to have a Google My Business account setup.
If you already have a Google My Business account, or after you have set one up, the screen will look like this: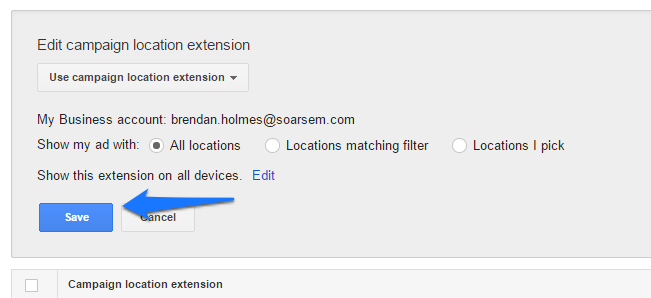 If you don't have an account, you'll need to set one up in order to use location and the screen will look like this.  :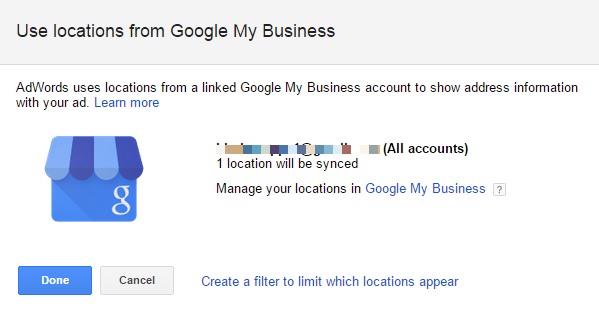 Adding Call Extensions
Click Call extensions. Then the red +Extension button.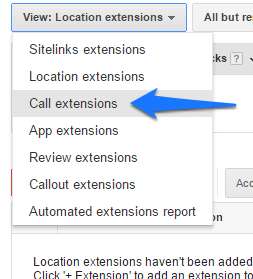 Click + New phone number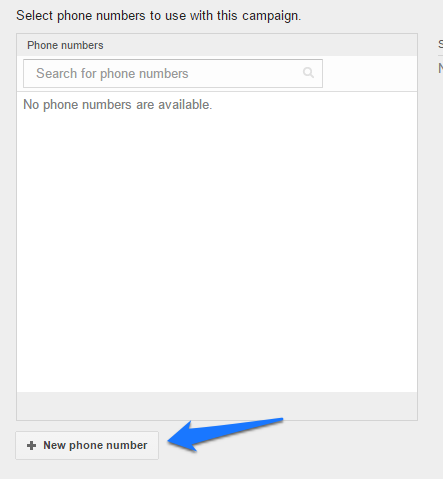 In the next pop-up menu, you'll need to enter:
Phone Number
Choose to use Google Forwarding (for conversion tracking) or your own phone number
Show links; both your website and number or just your number
Device method if you are targeting mobile
+Advanced gives you schedule options along with how you would like calls to show for conversions
Click save.  Also, click save in the next screen in order to save the call extension.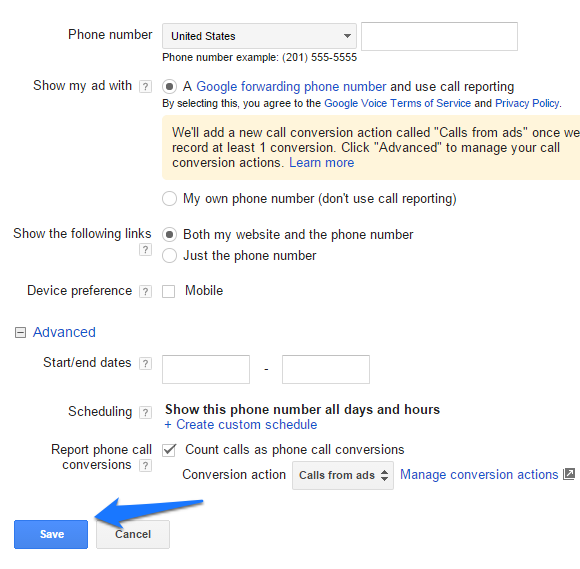 Adding Callout Extensions
Similar to actual sitelinks, callouts provide a brief statement about your website.  Phrases, such as "Fair All Cash Offer", "100% No Hassle", "Locally Owned" and "100% No Obligation", just add to the description of your real estate investor service.  The main difference between sitelinks and callouts is callouts do not have clickable links.  You are allowed to show four callouts at one time.  Two callouts are required.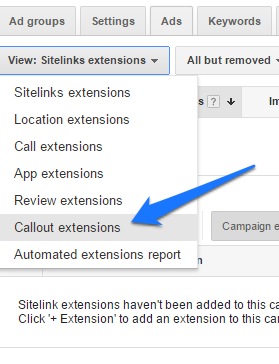 Click + New callout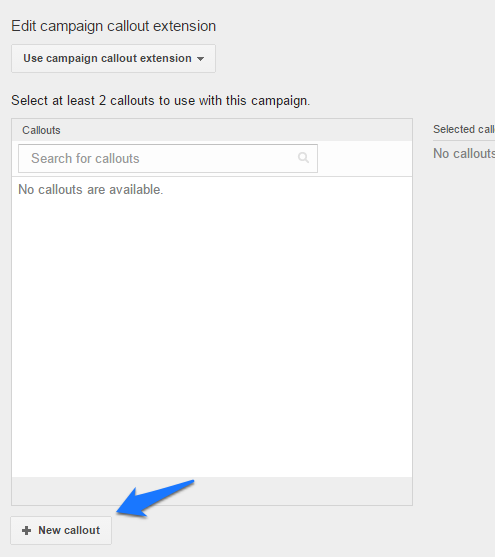 In the next pop-up menu, you'll need to choose your callout text, mobile preference and a schedule if desired.  Then click save.  You'll have to follow this process for each callout you wish to create.  Remember you need at least two and no more than four can be shown.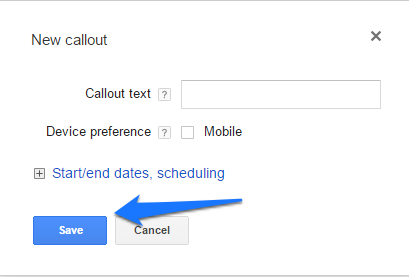 Once you've created all of your callouts, click save.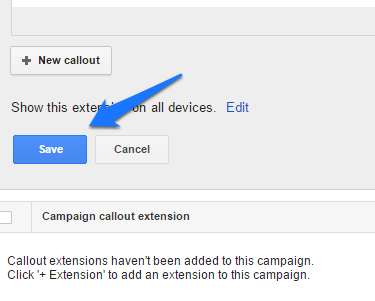 Final Product
Below is an example of an ad from a real estate investor who has utilized extensions to further benefit their company's Google AdWords ad.

No-Brainer
Ad extensions are free additions to your ads.  They are definitely worth the extra effort to increase attention and value to your ads.  In return, you'll have better odds of lowering your costs and increasing your click-through rate.  Put extensions to the test today and get improved results in your AdWords campaign.
For now, I touched on the basic extensions you can have great results with as a real estate investor.  In a future post I'll cover the last two, app and review extensions, as well as automated extensions reporting.
The PPC Management team at SoaringSEM would be glad to manage your campaign, so you can focus your Real Estate Investor efforts in buying and selling properties.  Check out our PPC service packages.