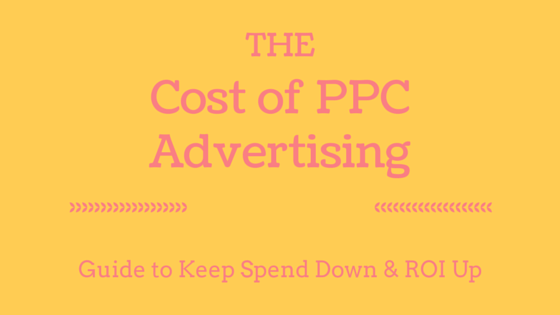 PPC Advertising Cost
How much does advertising with pay-per-click cost? A simple answer would be, as much or as little as you would like. But, it's just not that simple.
Pay-per-click advertising can be one of the most valuable pieces of your internet marketing strategy. But…if you're not alert, it could also be one of the most expensive.
For those real estate investors (or any type of business professional) that are new to pay-per-click, it's basically a search marketing program in which you bid to have your ads shown on the search results page when a keyword of your choice is search for. For example, entering the REI keyword "sell my house" will result in a series of paid ads that typically appear at the top and sides of search results.
If correctly created, your ad will be shown to targeted customers at the moment in which they are highly motivated to visit your site. Certainly, not everything will go as created. To have success with PPC marketing, it's essential to keep your eye on your costs, campaign effectiveness, and return on investment.
PPC advertising cost will greatly depend on how competitive the keywords for your market are and which Search Engine Marketing platform you choose. A low competition keyword could cost you cents per click. Whereas, high completion keywords can cost over $25 per click. High cost clicks doesn't guarantee a convert. You can't control how competitive your market is, but you can control some factors. Also, AdWords cost can be much higher than Bing Ads because Google holds more power. It is common that a properly managed real estate investor campaign can cost between $350 and $550 per month. That includes both PPC service charges and cost of clicks.
Here a few critical factors to controlling your budget:
Set and Stick with a Daily Budget
The first essential step before you launch a campaign, is to decide how much money you are willing spend each day on your real estate investor PPC campaign. Set a small budget and increase it as your success grows. That leads into sticking with a budget. Don't fall into the trap of thinking that just because you pour in more money, your ads will bring a return. That's just not the case. Educated bid management and eliminating non-performing campaign factors, allow you to minimize cost.
Take Time and Make the Effort to Organize Campaigns
One PPC advertising budget killer comes from a poorly organized campaign. Allocate funds toward your real estate objective. Plan your strategy accordingly and be sure to involve targeted ad group structure, keywords, ad copy, and geographic location. Without solid organization, your campaign becomes a blur and can cause a confused, if not, hopeless feeling.
Pay Attention to Your Campaign to Keep PPC Advertising Cost Down
You can't afford to have a "set it and forget it" mentality when it comes to PPC. A sure way to give away your money is to neglect your PPC campaign. You must follow through, monitoring what keywords and ad copy have been successful and what ones have not. Just because a keyword or ad has generated clicks, doesn't necessarily translate to conversions.
As a real estate professional, you must also remember that competitors are creating and managing the same type's campaigns.
A lack of active campaign maintenance is probably the biggest area of wasted spend.
Don't Forget about Negative Keywords
Adding negative keywords is an important component to keeping PPC advertising cost down. Negative keywords can prevent your ad from displaying when someone searches for a term that is unrelated to your topic. For example, you can add the keyword "plants" to your negative list to block a search for Sell House Plants Portland. This type of search does no good for a real estate investor in Portland looking for motivated sellers. Not utilizing this feature can cause a lot of wasted spend due to clicks by the wrong audience.
Test Ad Copy and Sitelinks
PPC platforms provide sufficient tools that will help you test various variables. You must test multiple ad copy. Test ads with different headlines, copy and calls-to-action. This ensures you are maximizing your click-through-rate and increasing your PPC ROI. You can also test sitelinks. Change headlines and links in order to see if they are generating qualified clicks.
Measure Your Conversions
It can be an easy process to measure which ads and keywords have actually been converting into quality leads. By implementing a conversion tag into you page or post, you can track where a lead came from. You can then allow for more budget to be spent on major converting keywords.
Keep PPC Advertising Cost Down
Yes, there's a lot of work that goes into keeping PPC advertising cost down. But, with some planning ahead and actively managing your campaign, you can create a successful PPC program that doesn't break your bank.
The PPC Management team at SoaringSEM would be glad to manage your campaign, so you can focus your Real Estate Investor efforts in buying and selling properties.  Check out our PPC service packages.