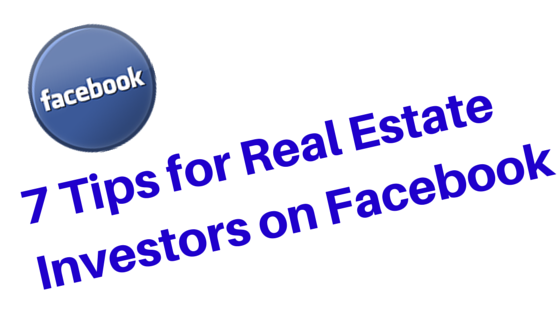 Most real estate investor have recognized that they've need to use social media to compete in today's market, but the majority of investors are still novices when it comes to search engine marketing and Facebook particular. Sure, you know you've got to have a Facebook page for your real estate investing business but beyond that most investors are still naive.
Below are 7 useful points that will help you get the most out of your Investor's Facebook page. Start using these tips immediately to make a difference in your Facebook marketing.
1.    Snag your Facebook address
Once you have reached 25 fans, you can claim your custom Facebook address.  Your Real Estate Investor URL on your Facebook page will become facebook.com/yourInvestorCompanyName.  After reaching 25 fans, go to facebook.com/username to get your address.
2.    Give Your Page a Boost with "Promote with an ad"
Like other online advertising platforms, such as AdWords, Facebook's advertising network can be a powerful and extremely targeted tool. You have the ability to control who views your ads based on age, gender, location, interests, plus more.  Facebook ads can be as powerful, if not more, than AdWords for Real Estate Investors.
3.    Attach Media to Your Updates
Your fans are much more likely to see your updates if they include links, pictures, or videos. Like all search marketing platforms, Facebook uses algorithms in order to decide which posts show on a news feed.  Updates with added media hold a stronger possibility of showing than updates that don't.
4.    Use the "Use Facebook as page" option
When this option is enabled, any comments or posts you leave on other people's pages will be attributed to your Real Estate Investor page, instead of your personal Facebook account. A benefit of this is you can join in conversations as an Investor, instead of it being from your individual page.  This can be a powerful tool.  For example, if you left a personal thank you on a client's wall, all of their friends will be able to see it.  You can gain more exposure.
5.    Freshen Up on "View Insights"
Facebook's internal analytics system can be a beneficial marketing tool.  The interface will display stats about your Investor Facebook page.  You can see interactions with your updates and posts as well as visitor information such as ages and gender. Paying attention to these stats can help you determine what works.
6.    Use a Graphic for a Call to Action
The main purpose of your Real Estate Investor Facebook page is to convert visitors into fans (leads). Set your page so that visitors will land on a customized tab with a graphic that points out your "like" button. Having a clear CTA on the custom landing tab will help convert more visitors compared to them landing on your wall.
7.    Utilize @ to Tag Other Businesses and Investors
If you use the @ symbol before a business or person's name, an alert will be attached to your status update. If you tagged @SoaringSEM, for example, we'd get a notification that you tagged us in a post.  Then because our privacy setting allow it, your post will appear on the SoaringSEM wall.  NOTE:  You can only tag people and businesses that you are friends with.
Get the most out of Facebook and take your Real Estate Investor presence to the next level by using these tips. If you have something else that's really working for your Investor page, leave it in the comments.  We would love to hear about it.
If you'd like to boost your social media presence, contact SoaringSEM today.  We have customizable packages to fit your social media and search engine marketing needs. Connect to your customers and boost your Investor online reputation.