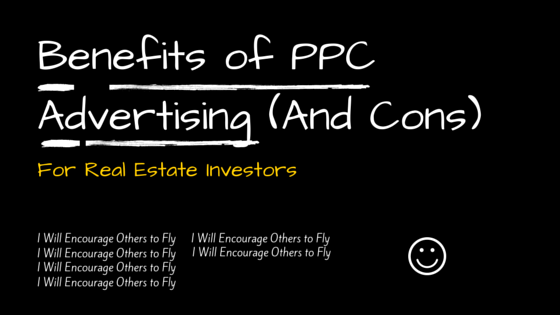 Benefits of PPC Advertising for Real Estate Investors
Before you decide whether or not pay-per-click advertising would benefit you as a real estate investor, check out the many pros versus very few cons.
Here's a brief summary of the points to consider.
The Benefits of PPC Advertising for Real Estate Investors
1. Speedy Results
Compared to SEO (Search Engine Optimization) which can take months to rank, PPC (Pay-per-Click) advertising often profit from immediate results. As people search for phrases that have been bid on, advertisements will begin to pop up on search results pages. As soon as ads appear, potential clients will see ads and become interested in your business. PPC advertising is essential to the online marketing plan of any real estate investor business that is looking to generate high returns at a low-cost.
2. Total Control Fix
Advertisers have total control of costs, keywords and overall campaign management. You set daily budget limits, so to never go above what you're willing to spend. With the help of a reliable PPC professional, you can also increase bids for high performing keywords and limit or remove the under-performers. You also have control of writing ad copy that fits your investor needs. The maneuverability of a PPC campaign can help increase the effectiveness of a lead generation plan. Having total control over a budget safeguards that the overall promotion spend can be customized for optimal value.
3. Rank Well for a Large List of Keywords
As one of the significant benefits of PPC Advertising, unlike SEO, is it doesn't rely on algorithms to rank keywords. If you have competitive bids and a good landing page (which contribute to quality score), your ads should show in good positions in search results. You can try to show ads for as many targeted keywords as you see necessary.
4. Increase Brand Awareness
Even though your ad might not be clicked on every time it is shown in the search results, ads are still showing your name. Which in turn, will increase brand awareness. It's always in front of potential clients eyes. The more they see your name, the more likelihood they will visit you at some point during their searches.
5. Laser Focused Targeting – Increase Local Exposure
Another benefits of PPC advertising, is it lets you target or exclude specific geographic locations, so you can target motivated sellers locally. This also potentially makes bidding for specific keywords, cheaper and less competitive.
6. Display Advertising
You can also easily create your own display ad and target specific websites called placements. Other targeting options you can use include keyword, remarketing, interests, demographic, geographic and topic. But, as you may see in con number 4, if not set correctly, Display Ads can potentially harm a campaign.
7. PPC Creates a Level Field
One of the top benefits of PPC. Small market companies can compete with national brands. A company of one can challenge mega institutions.
8. In-depth Tracking
You can make sure your PPC campaign stays as effective and cost-efficient as possible by tracking keywords, ad copy, extensions and conversions to ensure traffic is targeted, while providing high ROI.
With the benefits of PPC mentioned, there are a few cons to PPC advertising. Some cons include;
1. Using PPC costs money. If not used wisely, bidding on certain keywords can become pricey. You must have a targeted plan for particular customer intent words that apply to your real estate investing business. Don't bid on less than ideal terms.  This is why using a professional PPC service is beneficial, as it is constantly being monitored.
2. Yes, There Might Be Invalid Clicks
But, Google and Microsoft have a pretty good handle on this. What is more worrisome is not utilizing negative keywords to block random clicks that don't have any user intent.
3. You Do Need Some SEO Knowledge
If for no other reason, you need to be able to build a good landing page. Google will rank landing page for quality score. It will also help to know what good keywords mean in the SEO scheme.
4. Beware of Where Display Ads Show Up
A lot of display ads land on third-party network sites, so make sure you target trustworthy partners. Your ads can be clicked by dishonest site owners which generates more cost for you.
5. Hiring the Wrong PPC Advertising Service can be a Disaster
Be sure to hire a company that can provide customer references and is reputable. A bad service can amount to zero ROI. Ask them to explain their campaign strategy and see if they are willing to adjust to your real estate investing business strategy.
Utilizing SEO is a great way to generate targeted traffic, but getting into the top results takes time. You also risk never making it onto the prime real estate of page one. Consider the many benefits of PPC advertising as your immediate needs marketing tool to get quick results.
Interested in getting your Real Estate Investor PPC campaign flying? We would be happy to get you started. Use the contact us page or check out the SoaringSEM packages.  We are passionate about this business and believe that the benefits of PPC advertising far outweigh the negative aspects.