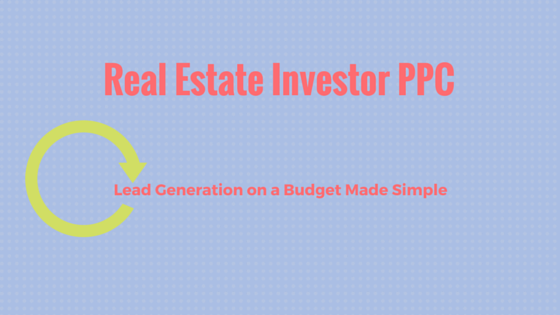 Executing effective real estate investors PPC campaigns can be a difficult task for those who don't have the time to learn about and manage a campaign.  Listed below are eight real estate investor PPC tips to stay competitive while on a budget.
As an investor, your number one focus is most likely on generating quality leads that convert into buyers or sellers.  PPC campaigns for lead generation isn't really about clicks and impressions.  It's about how many of those clicks turned into solid, real customers.
Small budgets make this so much more important.  Most real estate investors don't have thousands of dollars to spend on PPC advertising.  Actively managing campaigns and local targeting help keep cost-per-conversion down and return on ad spend (ROAS) up.   Here's eight things to do in order to make sure campaigns are set up for success.
Real Estate Investor PPC Lead Generation on a Budget – Made Easy
Make Sure Your Real Estate Investor Landing is Awesome
Before the bidding wars begin, it's extremely important to have a good landing page.  It helps to have keyword phrases, call-to-actions and appropriate images build into the landing page.  Don't forget to have an enticing sign-up form somewhere above-the-fold and another towards the bottom of the page.
Properly utilized landing page keywords pertaining to selling a house or we buy houses can increase click-through-rates, keep costs down, and ultimately score targeted leads.
Test, Test, Test.  Then, Test Some More
Over time landing pages should be A/B tested in order to see what works and what is worthless.  Test everything.  Color schemes, logos, sign-up form location, call-to-action phrases, images, and text are just some of the things to take a deep look at.
But, this isn't just about your landing page.  It also has plenty to do with your overall real estate investor PPC campaign.  Ad text, keyword match types, bidding, url extensions, ad extensions, and much, much more need to be tested.
Send Out the Search Party to

Fi

nd

Which Keywords Turn to Leads
We've found that real estate investor PPC keywords that convert are typically long-tail or more specific to someone trying to sell their house fast.  Checking the search terms report either weekly or bi-weekly also provides great insight to how people are searching.  When in doubt, meetings are held with real estate investors to make sure no intent keywords are left without testing.
Constantly refine your real estate investor PPC keyword list.  This will cut down wasted time checking out keywords that are a bust and free up time to build up the high converters.
Don't Be Afraid to
Go
Above the Clouds
Modified broad match keywords.  I've been ask, What?  When you're on a budget, modified broad match keywords can add a little extra opportunity to your real estate investor PPC campaign.  Without killing the budget.  Sometimes exact or phrase match types are too expensive and competitive to bid on. That's where modified can step in.
Local real estate investor lead generation campaigns can also benefit from modified broad match by providing more test feedback for potential new real estate investor PPC keywords.
Double Check Keywords, Ad Copy and Site Content is in the Streamline
Make sure all real estate investor PPC keywords and ad copy works together with landing page.  You want to make sure the content on the pages matches the keywords and content in the PPC campaign.
Drive motivated sellers to the right pages from the right ads.  For example, if a real estate investor has a page titled "How to Sell Your House Fast" be sure to send a motivated seller searching for how to sell my house fast to that page.  You want searches, keywords, ad copy, and pages to flow.
(If you're not already using a real estate investor PPC service, you need to get started now.)
Focus on Search Ads.  At Least to Begin
Display ads for real estate investors can allow you to enter through a new door of exposure.  But, as a real estate investor on a budget, display ads might not be a great option unless tight rules are placed.  Rules such specific placements can create a more targeted PPC campaign and stay within budget.
Typically, real estate PPC display ads don't generated as many qualified leads compared to real estate PPC search ads.
Be Sure to Set Up the AdWords and Analytics Link
Analytics reports allow real estate investors to see the results from their campaigns.  Data will then be shown in two different places.  The AdWords campaign reports and through more of a true source in Analytics.
Analytics can also provide and easier way to read and shift through data.  All it takes is to make sure conversion tags are implemented on the right pages that correspond with what the real estate investor goals are.  Such as a thank you page after a lead form sign up.
Expand Motivated Seller Leads with Ad Remarketing
Remarketing allows real estate investors to continue to target those who have click onto their site.  Don't lose track of the potential motivated seller searchers.  The drawback to smaller market campaigns and remarketing is that, at least for Google, search ads need a minimum number of 1000 cookies before a list can be used for search ads.  This might take a lot of time for some small market investors.
We Have Landed
Okay, you can unbuckle your belts and safely roam about the cabin.  Lead Generation PPC campaigns come down to staying active.  When clients get into trouble is when they stop paying attention to their accounts.
It's extremely important to know what you're trying to accomplish and exactly who you want to attract.  The one main goal is to generate new motivated seller leads for your real estate investing business and to continue to refine the process.
Overall, stay within budget, find new opportunities, and generate leads.
The PPC Management team at SoaringSEM would be glad to take the burden from you, so you can focus your Real Estate Investor efforts in buying and selling properties.  Check out our PPC service packages.